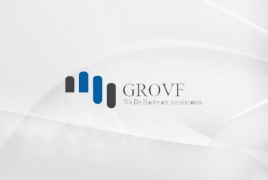 September 18, 2017 - 17:12 AMT
PanARMENIAN.Net - In an increasingly digital world, significant amounts of data are collected by companies. The latter, making use of big data and artificial intelligence, expand their businesses and find new business opportunities.
However, the capacity of processors in datacenters to store and analyze these data is often insufficient.
The amount of data generated in the past 8 years grew fifteenfold while processing power increased only fourfold. Moreover, the recent phenomenon of Industrial Internet of Things (IIoT) put traditional processor-based datacenters under heavy pressure. According to predictions of IBM and Cisco, the number of devices that are connected to the internet will increase eight times in 3 years and will reach up to 50 billion.
Today's high performance computing environments can significantly benefit if core algorithms and processes are accelerated using hardware (GPUs or FPGAs). Acceleration can deliver both higher performance and lower cost if developed properly.
Grovf, an Armenian startup, is about hardware acceleration of core database functionalities for IIoT data processing, which will offload datacenters up to 20 times and reduce the delay on response 100 times. Furthermore, this approach will drastically reduce the space, number of servers and power usage in datacenters.
"The Database server market is huge and amounts about $110B now. We target NoSQL database market which is only 10B now, but will increase up to 30B in 3 years driven by IoT," the company said in a conversation with PanARMENIAN.net.
"There are other companies who position themselves as an IoT database providers, but as we implement functionality on hardware (FPGA) layer, we are out of competition. Big enterprises like IBM, Intel also go this direction providing hardware acceleration solutions to Google and Amazon."
The company was founded on February 2017, supported by ANEL (Armenian National Engineering Laboratories) and IBM ISTC.
"In May 2017 we won an IMG grant in the amount of 50000 Euros and started the development of the first version of the product. Now we partner with National Instruments and use their hardware for prototyping and testing the device. There are already multibillion companies in Europe who are ready to pay for the device. Grovf team is growing, we are 5 now and actively looking for engineers to join our team in Vanadzor Technology Center," the startup said.
"Recently, within the framework of ASAB, we were in Berlin presenting our company at IFA Berlin (the biggest electronics expo in Europe) and at Armenian Startup Night. Currently, we are negotiating possible cooperation with SAP accelerator, Siemens Mindshare and discussing distribution options with two German IT companies."
The Armenian Startup Academy Berlin (ASAB) was organised by the Support to SME Development in Armenia (SMEDA) project, which is co-funded by the European Union and the German Federal Ministry for Economic Cooperation and Development (BMZ) and implemented by GIZ Private Sector Development in South Caucasus Programme.
SMEDA is part of the EU4Business and EU4Innovation initiatives of the European Union.