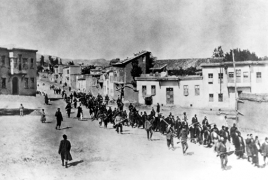 October 3, 2017 - 11:06 AMT
PanARMENIAN.Net - Peachfield's Once in a While Wednesday will host Susan Arpajian Jolley on October 11, whoc will discuss the book "Out of My Great Sorrows" about how the Armenian Genocide affected subsequent generations of survivors' families, Burlington County Times reports.
It is the story of artist Mary Zakarian born in Philadelphia in 1927, whose life and work were shaped by the experiences of her mother, a survivor of the 1915 Genocide.
Her parents' stories begin in Turkey, which they had called home. Her father, Moses, a musician and a weaver, came to the United States, after his first wife and children were killed in the Genocide, and Zakarian's mother, Arek Kocharian, escaped in 1923 after her first husband and two children also were killed.
The book was co-authored by Mary Zakarian's niece and nephew, Susan Arpajian Jolley and Allan Arpajian.
Some three dozen countries, hundreds of local government bodies and international organizations have so far recognized the killings of 1.5 million Armenian in the Ottoman Empire as genocide. Turkey denies to this day.