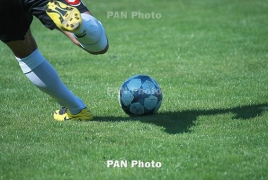 October 6, 2017 - 12:02 AMT
PanARMENIAN.Net - Poland beat Armenia 6-1 and put itself on the verge of qualifying for the FIFA World Cup on Thursday, October 5, leaving Armenia with virtually no chance of qualifying for the competition.
Hovhannes Hambardzumyan headed home for Armenia six minutes before halftime to reduce the lead to 3-1, but the final score leaves no room for words.
The international media extensively covered the event and, to be honest, gave an expected unfavorable assessment of the Armenian team's playing technique.
"By and large, the Armenian team has been finished for a long time. Three defeats at the start immediately threw the team out of the contenders for getting into the finals of the 2018 World Cup, then there was a small splash in the form of two wins from Kazakhstan and Montenegro, but as it turned out, it was a temporary occurrence. Artur Petrosyan's wards suit against Poland after three consecutive defeats, Denmark (4: 1), Romania (1: 0) and Montenegro (4: 1) were stronger," The Quebec Times said in a feature analyzing the results of the match.
Even forecasts prior to the game suggested that Armenia has already been mathematically eliminated from making the 2018 FIFA World Cup.
"Artur Petrosyan's men have not won in three consecutive games, most recently coming off a 4-1 loss against Denmark. Armenia's last clash with Poland ended in a 2-1 loss and this game should not be much different as Poland look to continue its dominance," Futnsoccer said in a review ahead of the game.
The host's mistakes went under heavy scrutiny after Poland were gifted an indirect free kick from eight metres after Armenia defender Taron Voskanyan passed the ball back to goalkeeper Grigor Meliksetyan who picked it up.
"Armenia's seventh defeat in their ninth qualifying game leaves them only above Kazakhstan in the group while Poland can guarantee themselves a place at next year's World Cup finals with a victory over Montenegro on Sunday," The Daily Mail says.
To put it mildly, international media outlets weren't really impressed with Armenia's performance, pretty much like everyone else behind the screens.
Their attention was instead focused on Robert Lewandowski becoming Poland's all-time leading scorer with 50 goals after netting a victorious hat-trick on Thursday.
"Not even the whole of Armenia could get in the way of Lewandowski and his record," DreamTeam FC says.
Following the match, several of the Armenian players apologised to fans for the defeat.
The Associated Press, The Guardian, ESPN FC, The Sun, The News & Observer, The Irish News, The Mirror, Reuters and dozens of other media outlets covered the match.