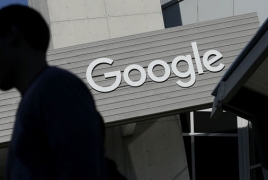 October 11, 2017 - 14:06 AMT
PanARMENIAN.Net - A YouTube channel that had been implicated in Russia disinformation operations to target the U.S. 2016 election has been taken down by Google, TechCrunch said.
Earlier this week The Daily Beast claimed the channel, run by two black video bloggers calling themselves Williams and Kalvin Johnson, was part of Russian disinformation operations — saying this had been confirmed to it by investigators examining how social media platforms had been utilized in a broad campaign by Russia to try to influence US politics.
The two vloggers apparently had multiple social media accounts on other platforms. And their content was pulled from Facebook back in August after being identified as Russian-backed propaganda, according to the Daily Beast's sources.
Videos posted to the YouTube channel, which was live until earlier this week, apparently focused on criticizing and abusing Hillary Clinton, including accusing her of being a racist as well as spreading various conspiracy theories about the Clintons, along with pro-Trump commentary.
The content appeared intended for an African American audience, although the videos did not gain significant traction on YouTube, according to The Daily Beast, which said they had only garnered "hundreds" of views prior to the channel being closed (vs the pair's Facebook page having ~48,000 fans before it was closed, and videos uploaded there racking up "thousands" of views).
A Google spokesman ignored the specific questions we put to it about the YouTube channel, sending only this generic statement instead: "All videos uploaded to YouTube must comply with our Community Guidelines and we routinely remove videos flagged by our community that violate those policies. We also terminate the accounts of users who repeatedly violate our Guidelines or Terms of Service."
So while the company appears to be confirming it took the channel down it's not providing a specific reason beyond TOS violations at this stage. (And the offensive nature of the content offers more than enough justification for Google to shutter the channel.)