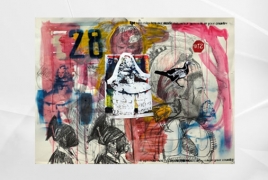 October 14, 2017 - 11:38 AMT
PanARMENIAN.Net - The Pharos Arts Foundation will present the solo exhibition 'Globalised' by Armenian artist Vahagn Hamalbashyan as on Wednesday, October 18 in Nicosia, the Cyprus Mail reports.
Hamalbashyan is inspired by things that weigh on his mind, whether it's his diabetic grandmother or international affairs. He considers himself as much a citizen of the world as of Armenia, and that his art gives him agency to take part in an international dialogue. Locally, he finds himself caught in the middle of the formation of a new Iron Curtain. He uses a brush, acrylic paint and canvas as his main instruments. He also takes advantage of a printmaker, pencils, charcoal, watercolour, spray cans, stencils and Armenian wine.
"When it comes to communicating emotionally with the world, I don't hold back," he said. One of his works in progress embodies the complacent attitude towards disaster on the horizon. It depicts a nuclear explosion over a beach where heads levitate and lick ice cream. In another work, The Visit of Big Brother, a Russian aircraft carrier dominates a lake, specifically Lake Sevan, while nude people relax while looking at the aircraft but do nothing about the lurking danger. It's not only the contemplation of problems that dominates Hamalbashyan's artistic investment, he also believes in the value of human life and how its beauties radiate into the surrounding environment. He points out how the nude people in his painting impart elation to the scene.
The artist supports free expression and believes that not only does each human being deserve a space to exist and work, but also every living thing. Water, for instance, plays a significant role in the everyday and thus he gives water a voice when he paints it blue, its portion competing with the other objects in the painting.
Hamalbashyan, from Armenia, studied at the National Centre of Aesthetics, Fine Arts and Decorative Art Studio in Yerevan, and continued at the State Academy of Fine Arts in Yerevan. He has held solo exhibitions at the Armenian Centre for Contemporary Experimental Art, at the Bureaucrat Art Centre in Yerevan, and at the Corridor Gallery in Leeds, UK as well as participating in numerous group exhibitions.
'Globalised' is his first solo exhibition in Cyprus, and it will be on show until November 3 at The Pharos Centre for Contemporary Art in Nicosia.