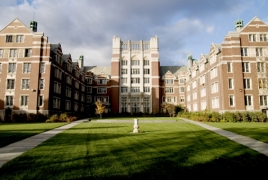 October 20, 2017 - 13:35 AMT
PanARMENIAN.Net - On November 2, the Armenian Mirror-Spectator, as part of its two-part 85th anniversary celebration, will sponsor a symposium on the campus of Wellesley College, the newspaper announced on Thursday, October 19.
The panel will feature journalists Robert Fisk, David Barsamian, Philip Terzian and Amberin Zaman. It is titled "Journalism and 'Fake News': Armenian Genocide and Karabakh."
Aram Arkun, the Tekeyan Cultural Association's executive director and the Mirror-Spectator's assistant editor, will act as moderator.
Terzian is a senior editor at The Weekly Standard, having served as literary editor during 2005-2012. A native of the Washington, DC, area and a journalist for more than 40 years, he has been a writer and editor at Reuters, newspapers in Alabama and Kentucky, the New Republic and the Los Angeles Times, and was editorial page editor of the Providence Journal.
Zaman has been a supporter of minority rights in Turkey. She is a proponent of normalization of Turkish-Armenian relations and regularly discusses the Armenian Genocide in her columns.
Barsamian is the award-winning founder and director of Alternative Radio, the independent weekly audio series based in Boulder, Colo., airing on more than 250 stations.
The fourth panelist, Fisk, is the Middle East correspondent for The Independent newspaper and a seven-time recipient of the British Press Awards' Reporter of the Year, has already been the subject of a feature.