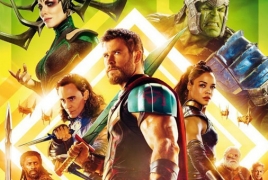 October 23, 2017 - 13:19 AMT
PanARMENIAN.Net - It's just a few weeks away before "Thor: Ragnarok" hits U.S. theaters, and now a surprising new detail of the upcoming flick has just been revealed. Star Tessa Thompson took to her Twitter account over the weekend seemingly to confirm that the third installment of the "Thor" film series would feature Marvel Studios' first openly LGBT character, AceShowbiz says.
Thompson actually posted the tweet in response to a thread that started with complaints of changes to her character Valkyrie's costume and race in the big-screen version. "She's bi," the 34-year-old actress wrote. She continued, "And yes, she cares very little about what men think of her," gushing, "What a joy to play!"
For those who don't know, Valkyrie is portrayed as bisexual in the comics. Aside from her, other LGBT characters in the comics are Loki, who is portrayed by Tom Hiddleston, and Korg, who is played by director Taika Waititi. With the helmer favoriting Thompson's tweet, it appears Valkyrie's sexuality will indeed be explored in the film.
"Thor: Ragnarok" is due out November 3. Chris Hemsworth is back as the God of Thunder, Idris Elba returns as Heimdall, while Anthony Hopkins is reprising his role as Odin, the king of Asgard, father of Thor and adoptive father of Loki. Cate Blanchett will take on the role of the film's main baddie, Hela, the goddess of death who has been inadvertently released from her prison.
Additionally, Mark Ruffalo is reprising the role of Bruce Banner a.k.a. Hulk in the follow-up to "Thor: The Dark World, while Benedict Cumberbatch is reprising his "Doctor Strange" role as Stephen Strange. Other cast members include Jaimie Alexander, Jeff Goldblum, Ray Stevenson, Karl Urban, Sam Neill, Tadanobu Asano and Tahlia Jade.
In "Thor: Ragnarok", Thor is imprisoned on the other side of the universe without his mighty hammer and finds himself in a race against time to get back to Asgard to stop Ragnarok - the destruction of his homeworld and the end of Asgardian civilization - at the hands of an all-powerful new threat, the ruthless Hela. But first he must survive a deadly gladiatorial contest that pits him against his former ally and fellow Avenger - the Incredible Hulk!