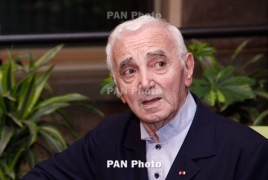 October 27, 2017 - 16:10 AMT
PanARMENIAN.Net - Legendary French-Armenian crooner Charles Aznavour on Thursday, October 26 asked Israeli president Reuven Rivlin why Israel has not recognized the Armenian Genocide so far.
"I don't expect an answer but I have to raise the issue," Aznavour said, according to RFE/RL Armenian service.
"Why don't you recognize the Genocide after having suffered at the hands of the Nazi regime yourselves?"
Rivlin said in response that that's a political question, adding that during his tenure as president and a member of parliament the issue has always been raise at the Israeli Knesset.
"We participated in the ceremony in memory of those horrifying events," Rivlin said.
"The Israeli government was unfortunately unable to recognize them as Genocide. And as the president of this country, I have to respect the government's decisions. No matter whether it's called a massacre or genocide, something terrible happened to the Armenian people in 1915."
Aznavour was honored in Israel on Thursday for his family's efforts to protect Jews and others persecuted by the Nazis during World War II.
Rivlin presented him with The Raoul Wallenberg Award, named for the Swedish diplomat who helped thousands of Jews flee Nazi-controlled Hungary during World War II.