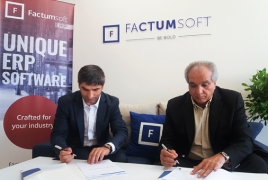 October 27, 2017 - 18:06 AMT
PanARMENIAN.Net - The Armenian startup Factumsoft signed a contract with a major Canadian consulting company, Norvex Systems, to replace the legacy Enterprise Resource Planning (ERP) software for some of their most notable clients. Factumsoft's ERP platform will provide the needed flexibility and customizability to better manage the complex construction business processes.
Factumsoft provides solutions based on its highly-configurable web-based ERP platform. The platform contains a rich library of industry standard elements and serves as the backbone for delivering uniquely-tailored integrated ERP solutions. The Factumsoft ERP platform and iterative implementation approach offer an alternative to custom development, which saves time, money and mitigates the risks related to custom development.
The global ERP Market is about $34B and is growing at 7% rate. Among its biggest players are SAP, Oracle, and Microsoft Dynamics, which typically cater to large enterprises. This is why ERP solutions were traditionally perceived as something only the corporate giants could afford, while smaller business remained with no other alternative than to buy off-the-shelf, small-scale products for their automation endeavors. However, today, midmarket businesses increasingly feel the need for a robust yet flexible and lightweight ERP solutions to grow, transform and meet their strategic goals. Factumsoft is called to close this gap between organizational needs and the best ERP functionalities.
"You don't have to be a billion-dollar company to have your own integrated ERP software," said CEO of Factumsoft Arman Margaryan. Michael Saydam, CIO of Norvex Systems, noted that this partnership is an exceptional opportunity to put such a notable Armenian startup on the global ERP map.
Factumsoft is a software development company building uniquely-tailored integrated ERP solutions for medium and large-sized companies.
Norvex Systems has been in the consulting business for over two decades. Their scope of activities includes strategic management and application consulting, process engineering and transformations, business analysis, etc. One of their main areas of expertise is ERP and CRM implementations for construction companies.