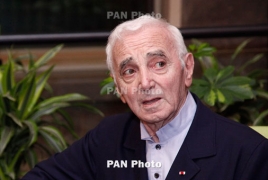 October 30, 2017 - 15:05 AMT
PanARMENIAN.Net - Legendary French-Armenian singer Charles Aznavour's 'La Boheme' was the special song of Israeli president Reuven Rivlin and his wife, Nechama, the president himself has revealed.
In a conversation with The Jerusalem Post, Nechama said the first thing she said to the crooner was "We were so excited about meeting you. That's the first thing I told him in the morning when he woke up."
Aznavour said he would have a surprise for the president when he and his wife attended his performance in Tel Aviv.
Abigail Tenembaum, representing the International Raoul Wallenberg Foundation, presented Aznavour with a special medal at a ceremony at the President's Residence, saying that his family had saved a number of Jews and Armenians during the Holocaust.
Both Rivlin and Aznavour spoke of the special bonds between Jews and Armenians.
The Aznavour apartment became a place of hope during a time of darkness, a house that offered "a hope for life."
Three years ago, said Tenembaum, the Wallenberg Foundation decided to honor the many people who had provided shelter in "houses of light to Jews during the Shoah." Over the past three years, it found and honored more than 400 families across Europe.
Aznavour said, in turn, that he had played Jewish characters in seven movies.
He said that today he is more French than Armenian, "but I have never denied my Armenian origins. Jews and Armenians have many things in common, in happiness and in sorrow, in our work and our music. We also know how to become important people in the countries that have welcomed us all over the world."