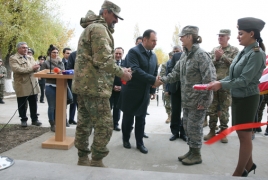 November 1, 2017 - 14:18 AMT
PanARMENIAN.Net - The Zar Military Training Center opened in Armenia on Tuesday, October 31, with defense minister Vigen Sargsyan,U.S. Embassy in Armenia's Chargé d'Affaires Rafik Mansour and Air Force Brig. Gen. Dawne L. Deskinsattending the event.
The minister said in his speech that the center testifies to the close cooperation between the U.S. and Armenia.
Mansour said, in turn, that Armenia should be proud of the role it plays in international peacekeeping missions.
"The presence of Armenian forces in Afghanistan, Kosovo and Lebanon reveals Armenia's commitment to making the world a safer place," he said.
"By reconstructing this center the U.S. government supports Armenian defense ministry efforts aimed at raising combat-readiness of their units."
The Zar center will serve as a main center for Armenian peacekeepers preparing for international peacekeeping efforts.
The Armenian army's Peacekeeping Brigade has received considerable financial and technical assistance from the U.S. and other NATO member states ever since it was set up in the early 2000s. NATO assigned a higher degree of combat readiness and interoperability to the brigade after monitoring a four-day exercise held by it at the Zar facility in 2015.
More than 130 soldiers of the brigade are currently deployed in Kosovo, Afghanistan and Lebanon. Armenia plans to join more peacekeeping missions abroad with specialized medical and demining units. They will undergo NATO training before their deployment.