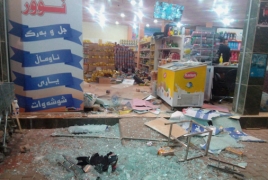 November 13, 2017 - 10:15 AMT
PanARMENIAN.Net - A powerful 7.3-magnitude earthquake has hit the border region between Iran and Iraq, killing at least 211 people, almost all of them in Iran, Press TV reports.
Reports said four people had been killed in Iraq.
According to the ministry of emergency situations, the earthwuake was felt in central and southern Armenia too.
The epicenter of the quake, which occurred at around 09:18 pm local time on Sunday (0040 GMT on Monday), was 32 kilometers south of the Iraqi city of Halabja, in Iraqi Kurdistan, and just across the border from Iran, according to the United States Geological Survey (USGS).
But the highest casualties occurred in the town of Sarpol-e Zahab, in Iran's Kermanshah Province.
The Legal Medical Organization of Kermanshah has confirmed that it has received 207 bodies until Monday morning.
According to the National Disaster Management Organization of Iran, power cuts had been reported in Kermanshah and houses in some western Iranian villages have been damaged to various degrees.
Soon after the quake occurred, Leader of the Islamic Revolution Ayatollah Seyyed Ali Khamenei issued a message calling on all Iranian officials and institutions to "rush to the aid of those affected in these early hours [after the incident]."
The Leader said the country's entire range of capabilities had to be used swiftly to prevent a further rise in the death toll.
Ayatollah Khamenei called on Iran's Armed Forces to help with removing the rubble and transferring the injured to medical centers.
Separately, Iranian President Hassan Rouhani spoke on the phone with Iranian Interior Minister Abdolreza Rahmani-Fazli on Sunday night, who briefed the president on the latest updates. President Rouhani then issued the necessary directives to facilitate and accelerate rescue operations.
Three days of mourning have been announced in Kermanshah.
The earthquake was felt in cities in several other Iranian Provinces, including as far away as in the capital, Tehran.
The quake also shook the Iranian provinces of Kordestan, Ilam, Khuzestan, Hamedan, West Azarbaijan, East Azarbaijan, Lorestan, Qazvin, Zanjan, and Qom.
The quake was also felt in other regional countries, including as Turkey, Kuwait, Armenia, Jordan, Lebanon, Saudi Arabia, Qatar, and Bahrain.
But the casualties and damage were limited to Iran and Iraq.