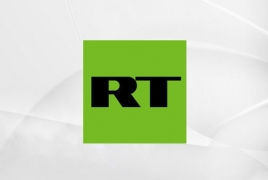 November 14, 2017 - 11:28 AMT
PanARMENIAN.Net - RT, the Russian broadcaster identified in January by the U.S. intelligence community as a Kremlin propaganda arm, registered as an agent of the Russian government on Monday, November 13, the U.S. Department of Justice said, according to BuzzFeed News.
Dana Boente, the acting assistant attorney general for national security, said in a statement that Washington-based T&R Productions, LLC, "registered today with the Department of Justice under the Foreign Agents Registration Act (FARA) as an agent for ANO TV-Novosti, the Russian government entity responsible for the worldwide broadcasts of the RT Network (RT)."
"The National Security Division's FARA Registration Unit is reviewing T&R's filings for sufficiency," the statement added.
In its January 2017 assessment of Russian interference in last year's election, the intelligence community said RT was part of the Kremlin's influence campaign.
RT, which is funded by the Russian government, said in September that the Justice Department had asked it to register as a foreign agent.
"The war the U.S. establishment wages with our journalists is dedicated to all the starry-eyed idealists who still believe in freedom of speech. Those who invented it, have buried it," RT editor-in-chief Margarita Simonyan was quoted as saying at the time.
RT subsequently said it would pull advertisements in Washington that appeared to reference the intelligence community's assessment and Hillary Clinton's election loss.
Monday's Justice Department statement notes that FARA registration "does not inhibit freedom of expression, does not restrict the content of information disseminated, does not restrict an agent's lobbying or publication of information or advocacy and applies neutrally to all foreign countries."
FARA, which Congress passed in 1938 to combat Nazi propaganda, is meant "to ensure that the American public and our lawmakers know the source of information that is provided at the behest of a foreign principal, where that information may be intended to influence U.S. public opinion, policy and laws," the DOJ said in its statement. "The law does not restrict registrants from operating, however."