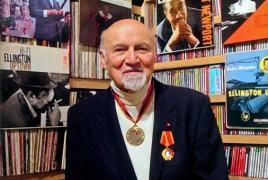 November 23, 2017 - 12:00 AMT
PanARMENIAN.Net - George Avakian, an American jazz scholar and music industry architect of Armenian origin, who produced essential recordings by Louis Armstrong, Miles Davis and other stars has died at age 98, The Associated Press reports.
Avakian's daughter, Anahid Avakian Gregg, confirmed that her father died Wednesday, November 22 morning at his home in Manhattan. No further details were immediate available.
He was born in 1919 in the Russian city of Armavir, the child of wealthy Armenians who fled from the civil war that followed the 1917 revolution. Once settled with his family in New York, Avakian fell in love with jazz listening to the radio, on low volume, so his parents wouldn't know he was still awake. When he entered Yale, jazz was still a relatively new and popular genre and few sensed it had lasting value.
Avakian was barely out of his teens when he met Armstrong. While at Yale, he helped unearth tracks from Armstrong's foundational Hot Five and Hot Seven sessions from the 1920s. After serving in the infantry during World War II, when Avakian was based in the Philippines, he was hired by Columbia and was soon back in touch with Armstrong.
"Louis remains the artist I most admired and most enjoyed recording, by a distinct though relatively narrow margin," Avakian told JazzTimes in 2000, "narrow because it was also an enormous pleasure working with Duke Ellington, Miles Davis, Mahalia Jackson, Erroll Garner, Sonny Rollins, Dave Brubeck and a host of others who were not just great artists, but among the best friends I have ever had."
Avakian, an executive at Columbia Records and Warner Bros. among other labels, helped popularize such consumer standards as liner notes, the long-playing album and the live album.
Few could claim as many milestones as Avakian, who started out as an Ivy League prodigy rediscovering old jazz recordings and became a monumental industry figure and founder of the National Academy of Recording Arts and Sciences, presenters of the Grammys. Through the artists he promoted and the breakthroughs he championed, Avakian helped shape the music we listen to and the way we listen to it.