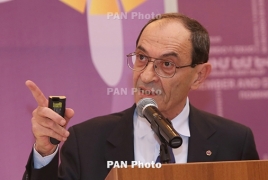 November 23, 2017 - 14:51 AMT
PanARMENIAN.Net - Armenia will welcome Azerbaijan's accession to the Eurasian Economic Union (EAEU) if Baku refrains from hostilities, deputy Armenian foreign minister Shavarsh Kocharyan told reporters on Thursday, November 23, Aysor.am reports.
"Azerbaijan's membership in the EAEU means adherence to the provision of the bloc which rules out steps and actions that would do damage to a member state or the Union in general," Kocharyan said.
"This means that if Azerbaijan wants to associate itself with the EAEU one way or another, it must refrain from such moves."
"From an economic viewpoint, suffice it to remember that Azerbaijan blockades Armenia," the deputy foreign minister added.
"We will welcome this state's accession to the EAEU either as a member or an observer if it fulfills its obligations, which means lifting the blockade, refraining from committing hostile actions towards Armenia and ending Armenophobia."
Russian foreign minister Sergey Lavrov said on Monday that Moscow will be very pleased to see Azerbaijan in the EAEU. Armenian foreign minister spokesman Tigran Balayan said, in response, that Yerevan's position on the matter is unchanged.