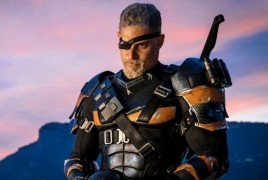 November 27, 2017 - 14:41 AMT
PanARMENIAN.Net - Joe Manganiello has shared on his Twitter account a photo featuring himself dressed in character as Slade Wilson a.k.a. Deathstroke. Posted on the micro-blogging site on Friday, November 24, the picture showed Deathstroke taking off his mask and revealing his face, AceShowbiz reports.
The actor, engaged to actress Sofía Vergara, is of Armenian descent through his mother's lineage.
Soon after, director Zack Snyder posted a behind-the-scenes photo featuring Manganiello on his Vero account, hinting Deathstroke in the making of one of the director's films. Slade Wilson made a brief appearance in "Justice League" post-credits scene where Lex Luthor (Jesse Eisenberg) escaped from prison to meet the supervillain.
Deathstroke is a famous mercenary in DC Comics who has butted heads with Batman on multiple occasions and managed to beat him in melee combat more than once. The villain is an assassin with enhanced reflexes and strength, making him one of the most deadly people in DC universe despite being an old man.
Originally, Deathstroke is meant to be the antagonist in "The Batman" when Ben Affleck was set to direct the film. After the actor stepped down, Matt Reeves took over to direct the film without Affleck's script, probably casting out the supervillain because Reeves intents to insert a more popular villain to the film. The director wanted the new Batman film to have Christopher Nolan's trilogy vibes, promising "a very emotional Batman story."
In October, it was reported that Warner Bros. tapped Gareth Evans ("The Raid") to write and direct a standalone film of the supervillain. Judging from the post-credits scene and Manganiello's Twitter post, Deathstroke's solo film may also be a part of DC Extended Universe. It's still unclear whether the plans will commence any time soon following the fiscal disappointment of "Justice League". But it looks like Manganiello is still in the game to play the character.
Warner Bros. currently has five DC Extended Universe films planned for release within the next three years, and there's no "Deathstroke" in the list as of yet. "Aquaman" is going to hit U.S. theaters on December 21, 2018, "Shazam" will be out on April 5, 2019, followed by "Wonder Woman 2" on November 1, 2019. In 2020, the studio is planning to release "Cyborg" and "Green Lantern Corps". It is still unclear when "Deathstroke" will be released. But judging from Manganiello's tweet, it's safe to assume that the anti-hero solo film may start production soon.