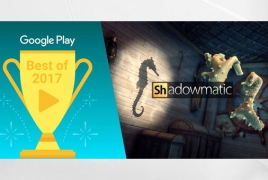 December 2, 2017 - 11:07 AMT
PanARMENIAN.Net - Armenia-based Triada Studio's imagination stirring puzzle Shadowmatic was named one of Google Play's Best Innovative Games of 2017.
Google shares a list of the most popular apps and content from the Google Play store every December. This year Google published the "Best of 2017" collection on Friday, December 1, highlighting the most popular apps, games, movies, TV shows, songs and books that released in the past year.
Shadowmatic arrived on Android in early March 2017, previously having been available for iOS devices.
The game is available for free download and after playing the first 14 levels in 4 unique environments, players can unlock the rest of the game with a single in-app purchase.
The popular 3-D puzzle game includes 12 rooms and over 100 levels. Each room has a unique atmosphere with a related musical composition that can be downloaded from iTunes. Shadowmatic features gorgeous graphics, secondary objectives, nonlinear level progression and 3D parallax view.
The game employs a special system of hints that could be used in case of necessity. First hint is a word or a phrase that implicitly hints at the hidden silhouette's practical, visual, or any other properties and functions. Second hint is another word or a phrase, which, in conjunction with the first hint, will provide more context for the silhouette, making your guess easier. Third hint is the title of the hidden object. Final hint reveals an image of the shadow that you're expected to project. However, the developers suggest that refraining from using any hints at all is deemed to make the game more enjoyable and fun.
Shadowmatic was included in Apple's list of the best games of 2015. The tech giant recognized Shadowmatic as the Game of the Year and Best Innovative Game of the Year in several countries simultaneously.