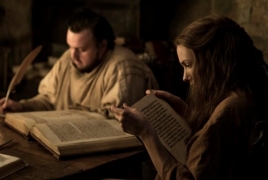 December 5, 2017 - 18:55 AMT
PanARMENIAN.Net - Fans have been hoping for any nuggets of information they can obtain about how "Game of Thrones" will come to an end. And while the official answers still won't arrive until the series likely returns to HBO in 2019, a new spoiler may have emerged that could be detailing who truly won't end the series sitting on the Iron Throne.
According to Watchers On The Wall, an often reliable source when it comes to spoilers for the show, the location identity for a massive set that has been created in Belfast, where the series films, that is attached to Titanic Studios, has been confirmed. And the reason why this location was built up was also revealed—potentially revealing two outcomes, neither of which look good for Cersei Lannister (Lena Headey).
According to the site, the set is meant to represent the streets of King's Landing, the capital city of Westeros where the Iron Throne sits, with Cersei Lannister still firmly perched there after betraying everyone by deciding not to help in the battle against the Night King and his army of the Dead. The interesting thing about the decision to construct this set featuring the streets of the city is that normally, the show would actually film scenes on these streets in actual Medieval old villages, the International Business Times says.
The reason the sets were constructed anew this time around however, is because of what will be happening to them as filming for the show continues. A source told the site that the entire set will be destroyed by fire during the final season, hence the need for a created set, and not filming in a real village.
More specifically, the source claimed to Watchers on the Wall that the fire which destroyed the city streets is actually going to officially be dragon fire. What is unclear is if the fire will belong to either Drogon or Rhaegal, the dragons still under Daenerys' (Emilia Clarke) control, or if the flames will rain down on the city because of Viserion, the dragon Dany lost beyond the Wall who was reanimated by the Night King. He was already used to burn down a part of the wall by Eastwatch, allowing the Army of the Dead to breakthrough into Westeros.
Regardless of whether the dragons that burn the city down belong to Daenerys or the Night King, the streets of King's Landing being burned doesn't seem to indicate that Cersei will find herself victorious when the series comes to an end.
However, it is also notable that the set does not appear to include the Red Keep, the compound where Cersei lives, which could mean she will remain safe, at least during whatever battle takes place which burns the rest of the city, and her predicted death will take place in another way.
"Game Of Thrones" Season 8 has not yet received a premiere date.