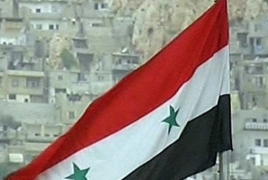 December 12, 2017 - 18:35 AMT
PanARMENIAN.Net - The elite Tiger Forces Division of the Syrian Arab Army is now ready to commence offensive operations aimed at liberating the province of Idlib from jihadist-led militias in present throughout region, Al-Masdar News reports.
One high-ranking commander of the division, Major Duraid (nicknamed 'Tiger Fire') has already arrived at the Khanassir axis with his battle group and is ready to kick-off operations on a moment's notice.
Duraid's outfit will not be alone as other Tiger Forces units continue to make their way to Khanassir.
According to early reports, the immediate objective of the Tiger Forces will be to fully secure the Hama-Aleppo highway that runs throughout Idlib province.
This development comes after the top commander of the Tiger Forces, Suheil al-Hassan, met with presidents Putin and Assad as well as a number of Russian commanders at the Khmeimim Airbase yesterday whereby he was congratulated for his key role in leading army forces against ISIS.