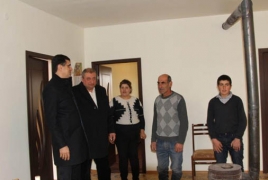 December 20, 2017 - 14:28 AMT
PanARMENIAN.Net - This spring, a family that owned a half-built house in the village of Katnaghbyur in Armenia's Aragatsotn province was included in the 2017 housing project financed by VivaCell-MTS and implemented by Fuller Center for Housing Armenia.
The news of being included in the program came as a surprise for Haykaram Baghdasaryan's family, who learned about it during the study visit of the partners. The support of collaborating parties created a prospect of having a home by the end of the year. Volunteers from the staff members and the heads of the partnering organizations joined Haykaram during the construction too. The Baghdasaryans recently had a housewarming party.
Twenty years ago, the family managed to build only the walls and part of the roof decking; the half-built and roofless building was exposed to snow and rain for many years. Everyday problems and difficulties didn't let the family finish the construction works. Haykaram's family - his wife and their three sons - had to live first at his paternal house, later rent a half-ruined house belonging to a fellow villager. Their elder son, Argishti serves in the Armenian army in Martakert, Nagorno Karabakh (Artsakh). The other two sons are schoolchildren.
As a result of the partnership between VivaCell-MTS and Fuller Center for Housing Armenia, this year seven families completed the construction of their half-built houses. Eight more families have renovated, furnished or installed heating systems owing to Ralph Yirikian's personal donations.
"This family is one of the first beneficiaries of the housing program implemented in 2017. I remember their astonishment at the news of being included in the program, and I also remember the optimism in their eyes when the construction was underway. The dream of this family is a reality today," said Yirikian.