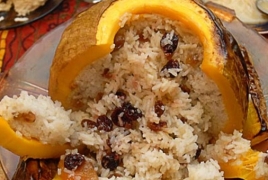 December 20, 2017 - 13:20 AMT
PanARMENIAN.Net - Business Insider has unveiled a feature about mouthwatering dishes prepared for a Christmas dinner in 20 countries around the world, naming pumpkin as the staple of the traditional Armenian meal.
More particularly, the news website refers to Ghapama, which is prepared by removing the guts of the pumpkin and stuffing it with boiled rice and dried fruits such as chopped almonds, apple, cornel, apricot, plums, dates, prunes and raisins. It is also common to add honey and mix in ground cinnamon or sugar. The pumpkin is baked until it becomes soft.
"We have eaten pumpkin, called ghapama, at Christmas for centuries," Narek, from Yerevan, Armenia said.
"Christmas is special because it is the only time we eat pumpkin. We stuff it with plav, a mixture of rice and raisins, and honey. This is then served with turkey."