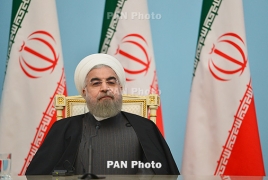 December 25, 2017 - 14:01 AMT
PanARMENIAN.Net - Iranian President Hassan Rouhani visited two families of Armenian martyrs of the Iran-Iraq War (1980-88) on Sunday, December 24 on the occasion of Christmas, IRNA reports.
"I hope the character and teachings of Jesus Christ can lead humanity to peace and peaceful coexistence," he said when visiting the family of Armenian martyr George Keshish Harutun after congratulating the family on the birthday of Jesus Christ.
Also Sunday, President Rouhani visited the family of martyr Edwin Shahmiriyan and said, "The Iranian nation appreciates the devotion and self-sacrifice of the martyrs and their respectful families".
Rouhani added the people of Iran have always been grateful to their fellow Armenian citizens and consider them trustworthy, hard-working and honest people who love their country.
The Armenian Apostolic Church celebrates Christmas on January 6. On this day, it also celebrates the Epiphany (which means the revelation that Jesus was God's son). Epiphany is now mainly the time Churches remember the Visit of the of Wise Men to Jesus; but some Churches, like the Armenian Apostolic Church, also celebrate the Baptism of Jesus (when he started his adult ministry) on Epiphany.