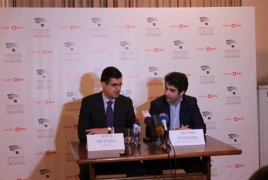 December 26, 2017 - 14:34 AMT
PanARMENIAN.Net - World famous Italian accordion and bandoneon player Mario Stefano Pietrodarchi, one of the most anticipated musicians among the Armenian music lovers, performed on Monday, December 25 with the State Youth Orchestra of Armenia (Artistic Director and Principal Conductor: Sergey Smbatyan) in the framework of a holiday surprise organized by the orchestra and VivaCell-MTS.
The SYOA implements various projects with the support of its general partner VivaCell-MTS. As a result of the long-term cooperation, residents and visitors of Armenia have enjoyed many innovative projects, with world renowned musicians arriving in Armenia and the Youth Orchestra touring in many countries.
With the support of VivaCell-MTS, the orchestra's concerts have been broadcasted online, presenting our rich culture, and due to the broadcast the whole world got acquainted with the Armenian performing art.
"Classical music always needs support. Acknowledging the importance of the art in the life of the society and its educational role, VivaCell-MTS makes an immense contribution to the preservation and development of the culture. VivaCell-MTS' efforts are highly appreciated both by professionals, musicians and by art-lovers", Smbatyan said.
"The result of the consistent work of the State Youth Orchestra of Armenia is obvious. The orchestra consists of musicians representing high performing art, whose performances are interesting not only in Armenia, but also beyond the borders of the country. I am glad for our cooperation, the most important achievements of which is that the musicians who have grown up and have a recognition in the international arena equally accepts the Youth Orchestra, performing together with them for the Armenian connoisseurs",- VivaCell-MTS General Manager Ralph Yirikian noted.
The State Youth Orchestra of Armenia and VivaCell-MTS summed up the 2017 with the concert of Pietrodarchi, the infinitely emotional, artistic and unique musician. He is a frequent guest in Armenia and is always welcomed with full concert halls and encores. The musician always presents new and interesting programs to the Armenian audience.
During the evening, pieces by the king of the Argentine tango Astor Piazzolla were presented. The audience also enjoyed works by Tommaso Ziliani, Roberto Di Marino, Cesare Chiacchiaretta, Carlos Gardel. Mezzo-soprano Sofia Tumanyan also performed during the evening.
On Sunday, by the decision of the Armenian government, the SYOA has been renamed to the Armenian State Symphony Orchestra.