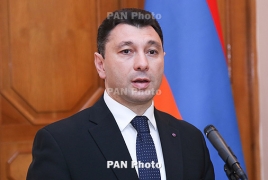 December 27, 2017 - 17:32 AMT
PanARMENIAN.Net - Following the Four-Day War in April 2016, the Armenian diplomacy has clarified and toughened its position on the Nagorno Karabakh conflict, deputy parliament speaker Eduard Sharmazanov said on Wednesday, December 27, Aysor.am reports.
Azerbaijan on April 2, 2016 launched an overt military offensive against Karabakh which left hundreds dead on both sides. Top Armenian and Azerbaijani defense officials reached an agreement on the cessation of hostilities on April 5 in Moscow.
Sharmazanov reminded president Serzh Sargsyan's speech at the 72nd session of the United Nations General Assembly, during which the Armenian leader said that Karabakh does have a right to self-determination and that it continues developing as a democracy.
According to Sharmazanov, Baku and Ankara have yet to realize that Artsakh has declared independence not from Azerbaijan, but from the Soviet Union.
The lawmaker said that Azerbaijan was "torpedoing" the negotiation process after the presidential summits in Saint Petersburg and Vienna.
"But following the recent meeting in Geneva, a five-sided joint statement was issued for the first time in five years, with Azerbaijan signing a document for the first time in four years, which included the same mechanisms proposed after the meetings in Vienna and Saint Petersburg and which Baku was trying to ignore," Sharmazanov said, adding that "this was one of the most important achievements of the Armenian diplomacy."
After the April War, however, Armenia has clarified and toughened its position which is based on our national interest, he said.