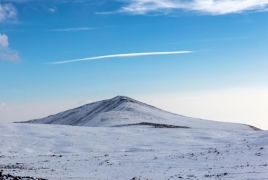 January 10, 2018 - 18:21 AMT
PanARMENIAN.Net - National Geographic in a fresh article has unveiled the story of how British photographer Toby Smith decided to document Armenia's Mount Aragats which is under threat by climate change, its snowcapped peaks and glaciers slowly shrinking.
Partly funded by Project Pressure, a charity documenting the world's glaciers, and with the Explore Armenia Grant from the Luminous Endowment for Photographers, he set out to document the way climate change disrupts the communities that still reside on Aragats.
The Explore Armenia Grant is made possible by a donation from AmeriaBank, the leading bank in Armenia. The grant is valued at $3,000 and is awarded twice yearly. Proceeds from the grant may be used to support travel to and within Armenia for the purposes of producing images that document the country's people, culture and landscape.

Smith planned to make the trip in the summer, when he would not only have an easy climb but also be able to document the amount of snowmelt at the summit. But, as is often the case, life got in the way. It wasn't until that November that Smith was able to embark on his journey.
It was a two-hour charge to the top, which they began in the early morning hours at 3 a.m. When they arrived, there was limited visibility thanks to the blankets of snowfall and snowstorms that tagged along on his climb. They didn't stay long— they left within about two minutes—but Smith took a photo of a frozen cross on the mountain's summit before making the descent. That cross is among his favorite images, he says, as it represents a part of the project that began to reveal itself to him as he learned more about this mysterious country.
"Smith's project, which he titled "Heaven and Earth on Aragats," ended up being less about showcasing a retreating glacier than it was about the disappearing livelihood of those who depend on Aragats," the magazine says.
"The mountain has a strange way of uniting people from different walks of life and the disparate narratives that began with Aragats but extended far beyond its slopes to the warm hearts and minds of all those who call this country home."