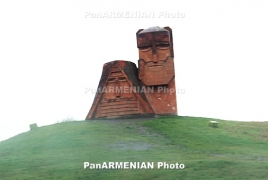 January 11, 2018 - 11:23 AMT
PanARMENIAN.Net - Artsakh (Nagorno Karabakh) is a real democracy, said Monique Slissa, the mayor of the French city of Les Pennes-Mirabeau, which is currently hosting a Days of Artsakh celebration, Asbarez reports.
Slissa is hosting the latest of the Days of Artsakh festival. The event is part of series of events dedicated to Artsakh in 10 French cities that have been named "Friendship Cities" with towns and municipalities in Artsakh.
The mayor, speaking to the local La Provence newspaper, said that Artsakh's democracy in unrivaled in the region. "For just this reason," she said "that country deserves our support."
"Armenian issues are close to my heart and for that reason Artsakh is also important for us. We decided to establish relations with Artsakh and Les Pennes-Mirabeau became the first French city to sign a cooperation agreement with the Martuni region of Artsakh," Slissa said, adding that one of the first decisions she made upon her election as mayor in 2001 was to dedicate the city's main square to the memory of the victims of the Armenian Genocide.
In addition to Slissa, member of the French Senate, former Mayor of Les Pennes-Mirabeau Michel Amiel, members of the City Council and heads of municipal departments are attending the events.