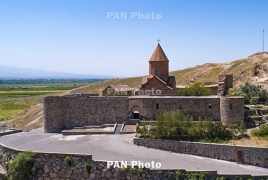 January 13, 2018 - 13:09 AMT
PanARMENIAN.Net - Russian police officers are now allowed to vacation in 13 countries, including Armenia.
A Russian tourism association has published what it says is a list of approved vacation destinations for Interior Ministry employees, a move that comes amid broad restrictions on foreign travel for Russian security officers since Russia seized Ukraine's Crimean Peninsula in early 2014, RFE/RL reports.
The Interior Ministry has yet to comment on the list published by the Association of Russian Tour Operators (ATOR) that was originally released just before the new year but only grabbed headlines in Russia on January 12.
But the 13 destinations on the list are consistent with images of a purported decree on the matter signed by Interior Minister Vladimir Kolokoltsev in late December that have been circulating on Russian social-media sites in recent weeks. The authenticity of these images could not be immediately confirmed.
The United States and the European Union remain off limits for Russian Interior Ministry employees in 2018, according to the list published by ATOR. But it says eight former Soviet republics -- Azerbaijan, Armenia, Belarus, Kazakhstan, Kyrgyzstan, Tajikistan, Turkmenistan, and Uzbekistan -- are fair game.