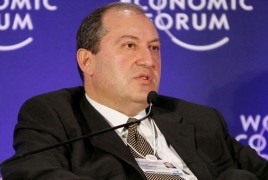 January 20, 2018 - 16:30 AMT
PanARMENIAN.Net - WikiLeaks, an international non-profit organisation that publishes secret information, has unveiled materials concerning the process of the 2007 parliamentary elections and the 2008 presidential election in Armenia.
According to the whistleblowing website, current Republican nominee for the president's post Armen Sarkissian was among the prime ministerial candidates back in 2007 alongside Tigran Sargsyan (who went on to become the premier in 2008) and Hovik Abrahamyan (who succeeded Sargsyan).
The information was reportedly provided by then Deputy Minister of Finance and Economy David Avetisyan, while the document is dated September 14, 2007.
Avetisyan said that Sarkissian was the preferred choice of all those in then PM Serzh Sargsyan's circle who hoped for a new wave of political and economic reform, more open governance, and a pro-Western stance. Avetisyan said he himself would only stay on in Armenia after the presidential elections if Sargsyan chose Sarkissian to be PM.
"Only Sarkissian, among the leading candidates, would represent an infusion of badly-needed new blood and new ideas into the closed circle of the Armenian ruling establishment, and represent a chance to break the culture of corruption that threatens to consume the Armenian political elite," the document says.
Now president Sargsyan had wanted to bring in a lot of non-partisan technocrats to signal his intention to inject fresh thinking and clean, meritocratic management into the new cabinet.
However, he was significantly stymied in this by old-guard Republican stalwarts Tigran Torosyan (parliament speaker)and Galust Sahakyan (formerly Republican Party faction leader in parliament), who insisted that more positions go to party loyalists. Avetisyan said that, while Sargsyan had been forced to cede ground to the party barons during this pre-presidential election phase, Sargsian was a patient and methodical man.