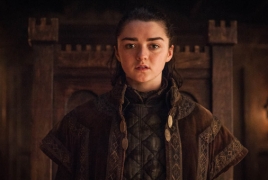 January 27, 2018 - 14:44 AMT
PanARMENIAN.Net - 'Game of Thrones' star Maisie Williams has hinted at which month the final season of the fantasy drama is supposed to debut.
In an interview with Metro, the Arya Stark actress said: "We wrap in December and we air our first episode in April [2019]. That's a four-month turnaround for these huge episodes. There's a lot that goes into the final edit. You would not want to rush this season at all. We owe it to our audience and our fans to really do this final season to the best of our abilities."
It was reported earlier, however, that filming is expected to wrap at the end of summer. Peter Dinklage, another of GOT stars, was quoted as saying they're halfway finished shooting.
In the interview, Williams also expressed a wish for her character to finally find peace.
"The things that have been driving her through her story have been very bitter and twisted and aggressive. I would love for Arya to find her true self again and let go of this anger and revenge that's accompanied her on this journey. I'd love for her to be happy," the actress said.