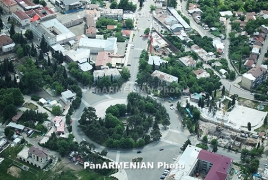 January 29, 2018 - 18:32 AMT
PanARMENIAN.Net - Artsakh (Nagorno Karabakh) welcomes H.Res. 697, introduced by Congressional Caucus on Armenian Issues Co-Chair Congressman Frank Pallone, Jr. (D-NJ), the Armenian Assembly of America (Assembly) reported.
The legislation supports United States-Artsakh relations, and calls for free and open communication, as well as travel, between the two nations at all levels of civil society and government.
"We welcome the resolution proposed by Congressman Frank Pallone titled 'U.S.-Artsakh Travel and Communication' aimed at establishing contacts between Artsakh and the United States and breaking down artificial barriers to visiting Artsakh by the U.S. officials," said Artsakh Foreign Ministry Spokesperson Ani Sargsyan.
"We are convinced that the mutual visits of official representatives of the two states, as well as an open and direct dialogue between our countries will contribute to the solution of the existing problems in the region. International cooperation, based on the principle of inclusion and not exclusion is also an important factor for reducing tension in the region."
Assembly Executive Director Bryan Ardouny and Congressional Relations & Grassroots Associate Mariam Khaloyan discussed the resolution with Congressman Pallone this week, highlighting, among other issues, the importance of the cease-fire monitoring regime given Azerbaijan's ongoing and deadly violations.
H.Res. 697 notes the importance of placing "OSCE-monitored, advanced gunfire-locator systems and sound-ranging equipment to determine the source of attacks along the line of contact."