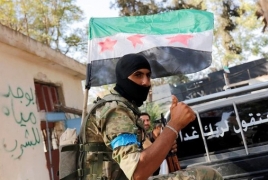 February 3, 2018 - 13:17 AMT
PanARMENIAN.Net - A squad affiliated with Turkish-backed rebels which attempted to enter a key border town in the Syrian province of Raqqa has been eliminated by Kurdish fighters after being detected and engaged on the spot, Al-Masdar News reports.
Sources familiar with the matter have reported over social media that Turkish-backed forces carried out a cross-border operation on the night of Friday to Saturday (February 2-3), entering into the northern countryside of Syria's Raqqa province from Turkey.
The armed group attempted to infiltrate the Kurdish-held town of Tal Abayad, opposite the Turkish border city of Akcakale.
Reports clarify that the rebel infiltration squad was driven back across the border into Turkey by Kurdish paramilitary units after being sprung, losing four of its ranks in the process.
Whilst additional sources are key to confirm the event, the time of the incursion co-insides with other reports that Turkey Army tanks were shelling Kurdish defenses in and around Tal Abayad from across the border.