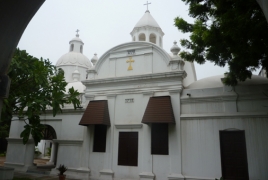 February 7, 2018 - 16:29 AMT
PanARMENIAN.Net - The Armenian Church of Virgin Mary in the Indian city of Chennai conducted an annual service on Tuesday, February 6, as six Armenians continue living in the city formerly known as Madras, The News Minute says in an article.
Armenians – traditionally rich merchants – enjoyed many privileges in the country, and their trail can be traced along major coastal cities like Calcutta, Madras, and Bombay.
From a flourishing community, however, they have dwindled significantly in Chennai with just a church and a street named after them – a testimony to a once glorious past, the article says.
In 2004, Chennai's last Armenian, Michael Stephan, moved out from the city to Bengaluru where he currently works as a Senior Manager, client services, at a facility management company.
The Chennai community is now seeing a revival of sorts, and six Armenians are presently living in the city.
One of the six Armenians in the city is Ashken, who moved here three years ago and now teaches Russian at the Russian Cultural Centre in the city.
What brings her to Chennai? "Life. Love," she laughs.
The Armenian Church was first built in 1712 – a simple wooden structure in erstwhile Madras. It was later demolished, only to be raised again in 1772.
The bell tower at its centre – the belfry houses six bells – is rung on Sundays every week.
The service on Tuesday was conducted entirely in Armenian.