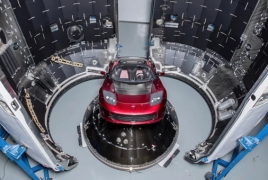 February 8, 2018 - 12:11 AMT
PanARMENIAN.Net - The tech billionaire Elon Musk sent one of his Tesla electric cars into space yesterday, a day before the company that built it announced its biggest ever quarterly loss, The Guardian reports.
Musk's Tesla electric car and energy storage company lost $675.4m in the three months ending December 31, the company announced on Thursday, February 8, compared with a loss of $121m for the same period last year.
The company has been spending heavily as it rolls out the next generation of electric cars, the Model 3 sedan, a semi truck and other products.
The company has struggled to keep up with is production targets for the Model 3 but said it would probably build about 2,500 Model 3s per week by the end of the first quarter and that it plans to reach its goal of 5,000 vehicles per week by the end of the second quarter.
On Wednesday Musk's private aerospace company, SpaceX, blasted a cherry red Tesla Roadster sports car into space in a successful test of its Falcon Heavy rocket.
The car and its dummy driver are now heading towards the asteroid belt.