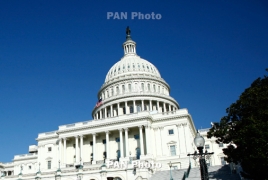 February 9, 2018 - 15:02 AMT
PanARMENIAN.Net - Senator Anthony J. Portantino will chair a hearing in the State Legislature on issues pertaining to economic and civil cooperation between California, Armenia and Artsakh (Nagorno Karabakh), his office said on Thursday, February 8.
The hearing, entitled "California, Armenia & Artsakh Trade Agreements, Civil Rights Issues & University of California Divestiture & Budget Impacts," will be held on February 28. Portantino, who initiated the Select Committee on California, Armenia and Artsakh Mutual Trade, Art and Cultural Exchange, views this hearing as an integral step in the development of bilateral engagement between California and the two Armenian nations.
It is his hope that, in addition to ongoing dialogue, concrete and tangible steps are taken in securing the stability of the Armenian people and forging economic opportunities," the statement said.
The Committee Hearing will feature moving testimony by an Armenian refugee from Azerbaijan, updates on the establishment of a trade MOU, and the latest in the effort toward divestment from the Republic of Turkey by the University of California. The hearing will also pay homage to the Armenians who were massacred by Azeris in the Sumgait Pogroms, as the 30th Anniversary of the tragedy is commemorated internationally on the same day.
Senator Portantino has a long track record of advocating for the rights of the California Armenian American community while in the state legislature. Just last month, he sent a letter to his colleagues urging them not to join or cooperate with the California Azerbaijan Friendship Association, a new lobbying effort put forth by the Azeri government to advance the Anti-Armenian narrative. Prior to that, Senator Portantino secured funding in the California budget for the construction of the landmark Armenian-American Museum in Glendale, California. He represents the largest Armenian American community in any legislative district in the country.