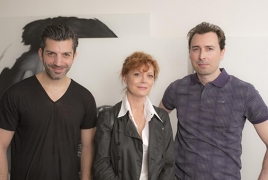 February 9, 2018 - 16:59 AMT
PanARMENIAN.Net - The official trailer for Arthur Balder's new experimental documentary "American Mirror" has landed online.
Academy Award winner Susan Sarandon stars in the film with U.S.-based Armenian artist Tigran Tsitoghdzyan.
In the trailer, Sarandon and Tsitoghdzyan discuss time and identity, and how the apparently-in-conflict values of beauty and aging are perceived in modern society dominated by social media, as he limns her portrait during a timeless sitting session.
"The film reveals how Tigran, a highly dedicated and painstakingly trained craftsman, brings the ancient spirit of the old masters into a unique post-modern hyperrealism deeply interwoven with NYC's culture and social landscape. Shot over the period of three years, the film takes us on a rare, thought-provoking, timeless reality-and-fiction setting to reveal how one of the most striking artists in recent art history climbs up the art-world ranks on the winding journey to success and recognition," the film's synopsys reports.
From producer David Shara and writer-director Arthur Balder, with an original soundtrack by composer Mark Petrie, "American Mirror" stars Susan Sarandon, Tigran Tsitoghdzyan, Donald Kuspit and Florence Faivre. With the participation of Ashley Hinshaw Grace, Jules Wainstein, Hilary Rhoda, Morgan Shara, Ryan Ross, Sirey Moran.