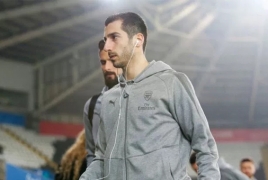 February 13, 2018 - 12:31 AMT
PanARMENIAN.Net - Arsenal fans decided to take a revenge against Manchester United after the Red Devils' defeat to Newcastle, in retaliation for the Manchester fans' reaction to Armenian midfielder Henrikh Mkhitaryan's form when Arsenal were beaten by Tottenham on February 10.
Mkhitaryan, who recently signed for the Gunners from Manchester United, featured in the match, and had a game to forget.
Manchester United fans reacted to the performance in exactly the way you knew they would - by mocking Gunners supporters on their signing.
In Manchester United vs Newcastle, Chilean forward Alexis Sanchez, who signed for United in January as part of the deal that saw Mkhitaryan go the other way, was in action in the match. He had a brilliant opportunity to score for his side, which he failed to take due to hesitating in front of an open-goal and seeing his shot get blocked.
As you'd imagine, Arsenal fans wasted no time getting their own back on the Manchester United supporters who poked fun at Mkhitaryan following the North London derby.
They took to Twitter to mock Sanchez' lost opportunity to score into an empty net.