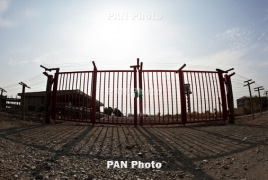 February 14, 2018 - 10:53 AMT
PanARMENIAN.Net - Last weekend, a Turkish citizen was detained by the officers of the Border Service of the Federal Security Service of Russia in Armenia near Akhuryan River in Armavir province, the service confirmed to PanARMENIAN.Net
During service, the Russian officers observed an unknown person who illegally crossed the Armenian-Turkish border and tried to fish in Armenia. A few minutes later the trespasser was detained.
During the verification process, it was established that the detained person is a resident of Karabag settlement of Digor district of Turkey, born in 1995. The Turkish national confessed to the offense committed.
According to the Russian Border Service, the Armenian police and the National Security Service were promptly notified of the incident.
The border intrusion was first reported on Tuesday, February 13, when four other Turkish citizens were caught in the restricted military area between the two countries.