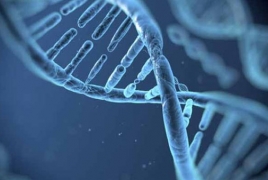 February 14, 2018 - 18:23 AMT
PanARMENIAN.Net - Scientists probing the reason why cancer is far less common in individuals with Huntington's disease have revealed that the gene responsible for the fatal brain condition produces a molecule that is deadly to cancer cells, Medical News Today says.
In a recent paper published in the journal EMBO Reports, scientists from Northwestern University in Chicago, IL, note exactly how they tested the molecule in human and mouse cancer cells, as well as in mice with ovarian cancer.
"This molecule," explains senior study author Marcus E. Peter, who's a professor of cancer metabolism, "is a super assassin against all tumor cells. We've never seen anything this powerful."
He and his colleagues hope that the discovery will lead to a short-lived treatment that can target and destroy cancer cells without triggering the progressive brain damage that occurs alongside Huntington's disease.
Huntington's disease is a fatal and inherited disorder that destroys nerve cells in the brain, causing a progressive decline in mental and physical ability. Symptoms will typically emerge between age 30 and 50 and progress over a period that lasts 10–25 years.