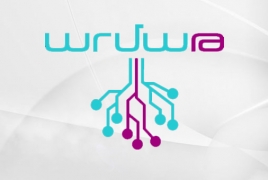 February 20, 2018 - 10:41 AMT
PanARMENIAN.Net - A pilot project of introducing Armath Armenian engineering laboratories in Indian schools will be implemented under a memorandum of understanding, signed on Monday, February 19 on the sidelines of the World Congress on Information Technology 2018 (WCIT).
The delegation of the Union of Information Technology Enterprises (UITE) is taking part in the WCIT 2018 in India, while the 2019 edition of the Conference will be held in Armenia.
The UITE has already reached an agreement with a big Malaysian delegation that will arrive in Armenia in 2019 to take up the baton for the WCIT 2020.
WCIT is an international business communication and transaction platform where over 2k business people, innovators, government officials, supranational organizations, investors, and prominent scientists meet to introduce the trends and challenges of the sector by holding B2B meetings and discussions.