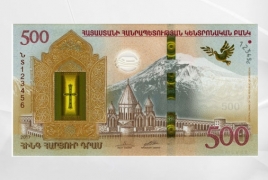 March 3, 2018 - 11:48 AMT
PanARMENIAN.Net - At the 2018 High Security Printing (HSP) Conference in Warsaw, the Armenian 500 dram collector's note, which features Noah's Ark as its main motif, was selected as Regional Banknote of the Year for the EMEA region (Europe, the Middle East, and Africa), the Ink World magazine reports.
With the collector's note, the oldest Christian country on Earth commemorates the ship in which, according to the Old Testament, Noah's family and all the animals were saved from a biblical flood, before coming ashore on Mount Ararat.
Noah's Ark is not just a symbol of the salvation and rebirth of humanity. It is also a symbol of Armenian history, which is deeply rooted in European culture.
"We are proud and grateful to be able to provide support and assistance to the Armenian central bank in this project, which is so important for the country," said Dr. Wolfram Seidemann, chairman of G+D Currency Technology.
The 500 dram note is Armenia's first collector's note and is already enjoying plenty of interest both in Armenia and internationally. The "Galaxy", "LaserCut" and "RollingStar LEAD" security elements which are harmoniously integrated into the overall layout and substrate enable quick and unambiguous verification through their distinctive color effects. The color shift from gold to green is dynamic and eye-catching. The high gloss depicts the value of gold, the magazine says.
In addition, it is Armenia's first denomination to be based on the Hybrid substrate from the Louisenthal paper mill. Hybrid banknotes are particularly resistant, as both sides of the cotton substrate are covered with polyester foils, protecting the notes. At the same time, they have the same familiar feeling as banknotes made from cotton paper.
"The Central Bank of Armenia's plan to use the Hybrid™ substrate to issue the entire new banknote series is confirmation of the success of the 500 dram note," added Seidemann.
The Regional Banknote of the Year award has been given since 2014, and honors outstanding performance with respect to design, technical sophistication, and security in a banknote or banknote series for a global region.