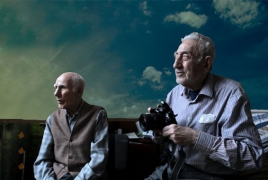 March 7, 2018 - 13:47 AMT
PanARMENIAN.Net - Turkish-American documentary filmmaker Shevaun Mizrahi is tackling the issue of the Armenian Genocide in her film "Distant Constellation", which was showcased at the !f Istanbul Independent Film Festival, which wrapped up its 17th edition on March 4, Al-Monitor says.
The elegiac "Distant Constellation," by Independent Spirit Award nominee Mizrahi, is a faded portrait of a multicultural nursing home that is slowly enveloped by high-rises amid the building boom that has transformed Istanbul.
A blind photographer, a romancing Francophone piano player and a survivor of the Armenian Genocide are among Mizrahi's subjects in the polyglot film — among the last vestiges of what was once a pluralistic society.
"This really was the final breath. I couldn't have made the film now," Mizrahi as said. Most of the characters have passed away since she completed "Distant Constellation."
Friends told Mizrahi they were worried a first person account of the 1915 Armenian Genocide could spark a backlash in Turkey. But the film does not "have a political agenda," Mizrahi said. "I'm not an activist. It's meant to be a kind of impressionistic experience. It isn't journalism."
Some three dozen countries, hundreds of local government bodies and international organizations have so far recognized the killings of 1.5 million Armenians in the Ottoman Empire as Genocide.
Turkey denies to this day.