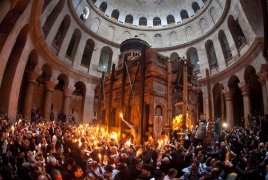 March 13, 2018 - 16:40 AMT
PanARMENIAN.Net - Priest Samuel Aghoyan representing the Armenian Patriarchate of Jerusalem has commented on his statement about how the Holy Fire appears, suggesting to hold the ceremony in public.
Aghoyan recently had an argument with a representative of the Coptic Church on the issue of how the Holy Fire appears. The incident occurred while shooting a report for Hadashot 2 news bulletin produced by Israel Television News Company. Aghoyan said he has seen three times how the patriarchs lit the bundles of wax candles from an oil lamp inside the empty tomb, adding that there was nothing mysterious about the Holy Fire.
The Armenian priest said that according to records, miracles have occurred in the past, but he hasn't witness one himself, RT reports.
"In other words, there is a lighted lamp on the Holy Sepulchre, we light our candles from it after prayers and then go out and give the fire to those assembled outside the tomb. This is all I said," Aghoyan said.
"And I think none of the priests who has been inside has ever said that such a miracle has happened recently, and that the Holy Fire is coming from above."
He also offered to hold the ceremony in front of the empty tomb (a marble chapel above the Cave of the Holy Sepulcher) so that everyone could see where the Holy Fire comes from.
"If we believe that every year the Holy Fire miraculously descends from heaven, why not hold a ceremony in front of the empty tomb, so that everyone can see the miracle? Then the miracle will not happen for a couple of people inside, and everyone will be able to see and believe instead," the clergyman said, stressing once more that people can say what they want.
"I can only talk about my own experience."