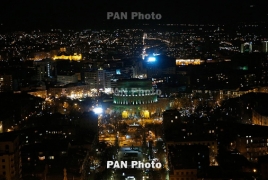 March 13, 2018 - 18:31 AMT
PanARMENIAN.Net - The Caucasus Research Resource Center - Armenia has analyzed the attitudes towards democracy and perceptions of democratic institutions in Armenia using the results of the Life in Transition Survey (LiTS) conducted in 2010 and 2016 by the European Bank for Reconstruction and Development as well as the Caucasus Barometer 2011 and 2017 datasets.
According to the study, 10% of respondents agree that country's politics is mainly or definitely going in the right direction, while a staggering 46% do not believe the situation in Armenia will ever improve.
Less than 20% respondents indicated that Armenia had law and order, fair justice system and political opposition; less than 10% believes in fairness of elections (see Figure 1). Also Caucasus Barometer results indicate that as much as 70% find the country to be not democratic at all (33%) or democratic but with major flaws (37%); only 3% considers Armenia to be a full democracy.
"Armenians do realize the importance of democracy. However, their positive attitude towards it is being weakened by (justified) lack of trust in existing democratic institutions and lack of improvement of the political environment over the years," the research concludes.