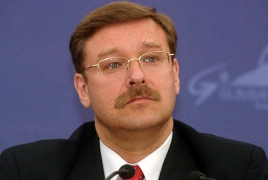 March 14, 2018 - 15:42 AMT
PanARMENIAN.Net - Deliveries of Russian weapons to Azerbaijan were carried out under agreements reached before the April war in Nagorno Karabakh (Artsakh) in 2016, Russian senator and the chairman of the foreign affairs committee Konstantin Kosachev told a press conference in Yerevan on Wednesday, March 14.
Azerbaijan on April 2, 2016 launched a large-scale military offensive against Karabakh which left hundreds dead on both sides. Top Armenian and Azerbaijani defense officials reached an agreement on the cessation of hostilities on April 5 in Moscow.
The senator was responding to a question about why the Russian Federation accuses the United States of supplying arms to Ukraine claiming that it is impermissible to supply arms to conflicting countries, while Russia has sold arms worth $5 billion to Azerbaijan since 2011.
"I would like to emphasize that we referred to armed conflicts in "hot phases", as the situation in the east of Ukraine, where guns are shooting. Fortunately, the Karabakh conflict is not in this phase. We all understand that the situation is explosive, and the events of April 2016 are yet another tragic confirmation of that," Kosachev said.
"Russia now fulfills the contracts that were concluded before April 2016, and we are obliged to do so in accordance with the provisions of these agreements."
According to him, however, Russia will not supply weapons to Azerbaijan in the same amounts it did before 2016.
"Of course, we are reacting to the situation that happened in April 2016. There is no doubt about this," the senator added.