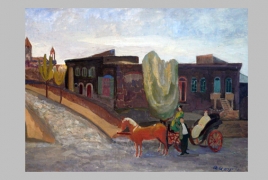 March 26, 2018 - 11:27 AMT
PanARMENIAN.Net - Armenia has long fostered a tradition of fine art painting and world-renowned artists. Amongst the more than four hundred artists of all backgrounds represented by Gallery Z are a notable number of the world's talented Armenian artists, both present and past.
Simon Samsonian (1915-2003) is April's featured artist at the gallery's newest exhibit, "Armenian Artirsts", opening on April 19.
A giant among Armenian artists, orphaned by the 1915 Genocide in the Ottoman Empire, he spent his childhood in orphanages in Greece and Egypt. Having also lost his family name, he was given the name Samsonian by the orphanage, having been brought there from Samsoun.
After an established career in the receptive art environment of Cairo, Egypt, and having traveled to museums in Europe, Samsonian settled in New York in 1968. The France Amerique labeled his work "symbolic cubism" (1972). Bold lines, rich colors, flat expanses and planes depict landscapes, cityscapes, still lifes and portraits in a distinctive contemporary style. Samsonian's works are in museums in the U.S., Armenia, Egypt, France and Austria.
Additional artists whose works have been chosen for display include Kevork Mourad b. 1970, Aghassi (b. 1964), Rafael Atoyan (1931-2014), Lara B. (b. 1977), Emma Gregorian b.1943, Alexander Grigoryan and three generations of Elibekians (Areg Elibekian b.1970, Robert Elibekian b.1941, Vagharshag Elibekian (1910-1994).
Gallery Z carries a wide selection of Armenian and international handicrafts, jewelry and gifts. In the "Italy" room, the local Federal Hill Italian atmosphere is conveyed with "Dreamy Venice", handmade Murano glass and jewelry imported from Venice by Gallery Z Associate Linda Kamajian, amidst fine art either related to Italy or by some of Gallery Z's established Italian-American artists.