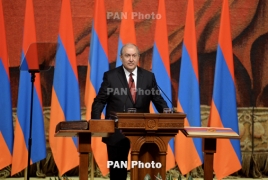 April 9, 2018 - 13:07 AMT
PanARMENIAN.Net - Former ambassador to the United Kingdom Armen Sarkissian was sworn in as Armenia's new president at a special sitting of the National Assembly at the Sports and Concert Complex in Yerevan.
The president took an oath by putting his hand on the Constitution of Armenia and the Holy Gospel.
"I swear to be loyal to the Constitution of Armenia, to be impartial in the exercise of my powers, to be guided only by national interests and to put all my strength into enhancing the national unity," Sarkissian said.
Starting from Monday, constitutional reforms change the way Armenia is governed. The second and final presidential term of Serzh Sargsyan ends, and he expected to resign as president and head of state, along with the current government.
Sarkissian was nominated for the post by the ruling Republican Party of Armenia (RPA) and elected by the National Assembly on March 2.