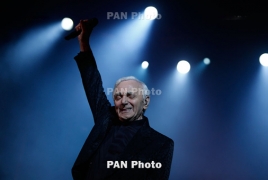 April 9, 2018 - 12:47 AMT
PanARMENIAN.Net - French-Armenia crooner Charles Aznavour will perform in Pula amphitheater of Croatia on August 16, 2018, the Croatia Week reports.
Also, famous English musician will also sing in the Croatian city on July 8, 2018.
Dubbed France's Frank Sinatra, 93-year-old Aznavour is known for his unique tenor voice and has enjoyed a career spanning over 70 years.
He has recorded more than 1,200 songs interpreted in eight languages. He is one of France's most popular and enduring singers, having sold 180 million records.
He is also arguably the most famous Armenian of his time. In 1998, Aznavour was named Entertainer of the Century by CNN and users of Time Online from around the globe. He was recognized as the century's outstanding performer, with nearly 18% of the total vote, edging out Elvis Presley and Bob Dylan.
Last year Aznavour was awarded the a star on the Hollywood Walk of Fame.