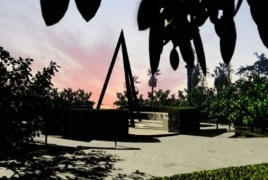 April 11, 2018 - 14:17 AMT
PanARMENIAN.Net - U.S. Senator Anthony J. Portantino will be joining the Pasadena Armenian Genocide Memorial Committee for the official unveiling of the 210 freeway signs for the Pasadena Armenian Genocide Memorial on Sunday, April 21, 2018. The community is invited to attend the event at Memorial Park in Pasadena, California.
The Pasadena Armenian Genocide Memorial is a solemn reminder of 1.5 million Armenians who were killed during the Armenian Genocide. It also serves as a religious and cultural celebration for the thousands of Armenian American decedents of survivors within the 25th Senate District and Los Angeles County.
Prior to his election to the State Senate, Senator Portantino had the honor to serve on the Board of the Pasadena Armenian Genocide Memorial Committee which constructed the memorial. Once elected, Senator Portantino requested for informational signs to be installed to direct the public to the memorial.
As of April 1, 2018, Caltrans has installed two freeways and two off ramp signs on Interstate 210. Senator Portantino currently represents Senate District 25, which is home to the largest Armenian-American community in the country.