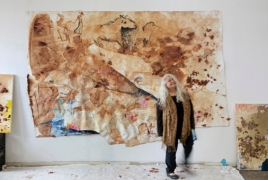 April 14, 2018 - 10:46 AMT
PanARMENIAN.Net - The Armenian Museum of America on Friday, April 13 announcedthe opening of SKINS, a new exhibition by Marsha Nouritza Odabashian on April 24.
That same day, the 103rd anniversary of the Armenian Genocide will be obsered.
As a child, Marsha Nouritza Odabashian absorbed her grandmother's experience of the Genocide. By applying traditional Armenian onion skin dyes to textured paper, she reveals the hidden bruises and marks that lie within.
Her surface drawings trace a more deliberate narrative connecting personal experience to historical record. The finished pieces serve as visual recovery rooted in the creative desire to challenge the darker impulses of human nature and history.
The Armenian Museum of America houses and preserves objects of art and culture collected from Armenian families and donors from around the world. The Museum holds its collection in trust for future generations as objects of witness and survival to serve as a record of Armenian creativity, ingenuity, and wisdom for those who are familiar with Armenian history and culture, as well as for those to whom these objects, manuscripts, and ephemera are a new experience.