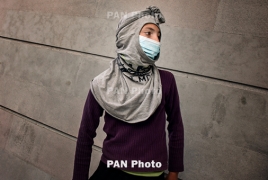 April 18, 2018 - 16:46 AMT
PanARMENIAN.Net - Young people in Armavir started demonstrations against the newly elected Prime Minister Serzh Sargsyan, Azatutyun radio station reports. The initiators blocked one of the main streets of the city and encouraged the schoolchildren to join the protests.
Member of Council of Yerevan and the president of "Yerkir Tsirani" party, Zaruhi Postanjyan initiated protests in the streets of Vanadzor encouraging everyone to join the request of Serzh Sargsyan quitting his new post as PM.
Demonstrations in Gyumri are held near the Regional Administration office of Shirak. At the same time the protesters encourage the students in the city colleagues and schools to join the demonstrations.
Currently the demonstrations of opposition against Armenian Prime Minister continue in the center of Yerevan. Earlier Vanadzor, Gyumri, Ijevan and other cities joined the opposition protests.
Photo was taken in Yerevan